Vaccinating when necessary / Titer Testing
We vaccinate all our animals only when necessaryy, also our puppies. Fortunately every year the number of veterinarians who do Titertesting increases, but unfortunately there are also still way too many vets that will try to convince you the puppy or dog needs regular vaccinations. The most common way of vaccinating bombards the developing immune system of the puppy with antibodies, wether it needs it or not. They hope one of the vaccinations that are administered at 6, 9 and 12 weeks of age will actually work to protect the puppy from three potentially deadly diseases. The essential word is hope, a regular vaccinating scheme does not guarantee your puppy is actually protected against these diseases. There's even evidence that vaccination does NOT work when the puppy is still protected by the maternal antibodies. You could therefore walk around with your puppy for a year, untill the next regular vaccination, while your puppy is unprotected and vulnerable to these diseases.
Fortunately there's a way of proving your animal is protected, without burdening the immune system more than necessary. This way a drop of blood is tested for antibodies that tell wether the animal is protected, this is called Titertesting. If the puppy has been drinking milk from its mother for the first 2 days of its life, it has received enough antibodies to last at least 6 weeks, and usually even longer.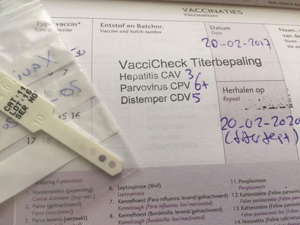 We Titertest our puppies at 6 weeks of age. Depending on the result of this test, the puppy is vaccinated or not. In both cases the Titertesting should be repeated at about 9 weeks of age. If the puppy has been vaccinated at 6 weeks, you test at 9 weeks if this vaccination worked. If the puppy was not vaccinated at 6 weeks, you test if the maternal protection has decreased enough to make a vaccination work. After vaccination there should always follow a control-titertest to prove the vaccination worked to protect your puppy. Then the puppy is titertested again at 1 year of age and more often than not proves to be protected for 3 more years. That means that only one vaccination can provide enough protection for 4 years !!! And very often when the titertesting is repeated at 4 years of age it even proves to still be protected for three more years. You can compare this to humans who are vaccinated once in infancy and are protected for their entire lives.
If you buy a puppy from us we expect you to support our way of vaccinating only when necessary and do NOT allow your regular vet to convince you to just follow the regular vaccination scheme. We give you this whole story on paper, so you can show it to your own vet and we recommend a vet near you that does Titertesting. You don't need to move to this vet entirely, we also go to a different vet than our regular vet, just for Titertesting. To reward you for supporting our way of vaccinating, we pay for you first (control)Titer. It is very important to us that you support this.